Porteur de projet : D. Sigaudo-Roussel
Personnes impliquées dans le projet : C. Bonod, G. Aimond, S. Feraro, J. Vial, R. Debret, A. Josset-Lamaugarny, N. Remoué, M. Lo, K. Liu Lo, B. Fromy.
---
Fonctionnalité cutanée post-cicatrisation
Nous nous intéressons plus particulièrement à la fragilité de la peau et au mécanismes de réparation et de fonctionnalités tissulaires dans des conditions pathologiques liés à des désordres métaboliques (diabète, obésité) avec un focus sur les fonctions neuro-vasculaire, adipocytaires et sur les fibres élastiques. En effet les voies de signalisations pathologiques induites par l'hyperglycémie ou l'augmentation de l'adiposité impactent l'incidence des plaies de pressions (lésion hypoxique et ischémique) et le délai de cicatrisation.
Fonctionnalité vasculaire

Une perfusion sanguine adéquate à la peau est non seulement indispensable au fonctionnement normal du tissu cutané, mais joue également un rôle important dans la réparation tissulaire après lésion cutanée.
De plus, la peau n'est plus considérée comme une simple barrière anatomique, mais un organe cible s'associant à des altérations des organes profonds dans des conditions pathologiques.
Nous nous réalisons des mesures non-invasive et invasives de réactivité des vaisseaux sanguins de petits calibres en conditions physiologiques et physiopathologiques. Nous nous intéressons à la régulation hémodynamique par différents facteurs paracrines ou hormonaux impliqués dans la réparation tissulaire cutanée et vasculaire.
La méthode du myographe permet d'évaluer la réactivité vasculaire à différentes substances vasoactives in ex-vivo sur des vaisseaux de différentes tailles (100 – 3000 µm de diamètre interne).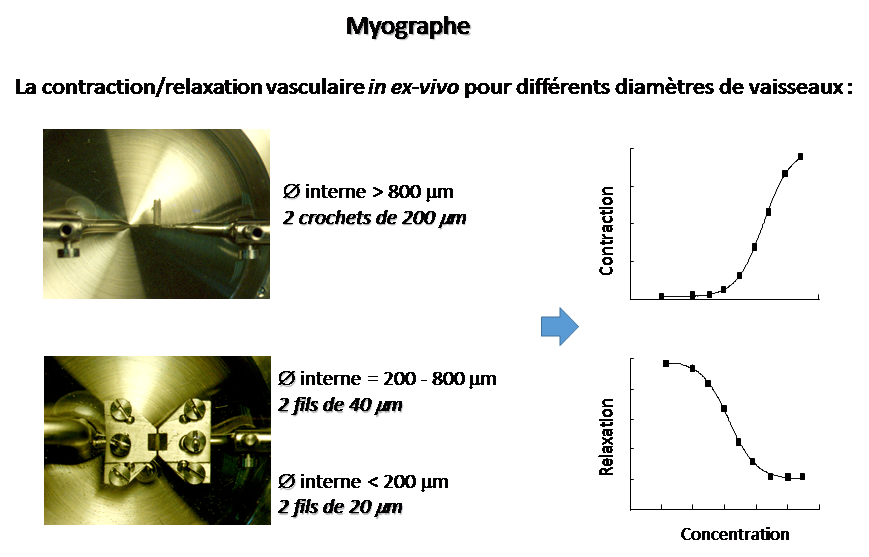 Sélection de publications :
Loader J, Meziat C, Watts R, Lorenzen C, Sigaudo-Roussel D, Simon Stewart S, Reboul C, Meyer G, Walther G. Effects of sugar-sweetened beverage consumption on micro- and macrovascular function in a healthy population. ATVB. 2017 In Press
Liu KL, Canaple L, del Carmine P, Gauthier K, Beylot M, Lo M. Thyroid hormone receptor-α deletion decreases heart function and exercise performance in apolipoprotein E-deficient mice. Physiological Genomics 48: 73-81, 2016.
Rodriguez J, Boucher F, Lequeux C, Josset-Lamaugarny A, Rouyer O, Ardisson O, Rutschi H, Sigaudo-Roussel D, Damour O and Mojallal A. Intradermal Injection of Human Adipose-derived Stem Cells Accelerates Skin Wound Healing in Nude Mice. Stem Cell Research & Therapy. 2015 8;6:241.
Liu KL, Lo M, Canaple L, Gauthier K, del Carmine P, Beylot M. Vascular function of the mesenteric artery isolated from thyroid hormone receptor-α knockout mice. Journal of Vascular Research 51: 350-359, 2014.
Nguyen-Tu MS, Begey AL, Decorps J, Boizot J, Sommer P, Fromy B, Sigaudo-Roussel D. Skin microvascular response to pressure load in obese mice. Microvascular Research.2013; 90:138–143.
---
Collaborations :
Jazz Sethi (Cambridge, UK)
Roustit Matthieu (Grenoble)
Walther Guillaume (Avignon)