Participants  : M. Pasdeloup, J. Lafont, J-D Malcor
---
The principal function of articular cartilage is to allow motion through the joints and absorb the shocks. How the chondrocytes respond to mechanical stimuli and tigger intracellular signals (mechanostransduction) is still unclear. Ion channels, primary cilium, and integrins have been identified as mechanotransducers in chondrocytes and ou project focuses on the role of α10β1, the most abundant integrin in chondrocytes however its role is not yet understood. Our project explores the involvement of α10β1 in mechanotransduction of chondrocytes.
We developped a model of murine chondrocytes embbeded in hydrogel (agarose) and subjected to dynamic compression (tribo-bioreactor prototype), and we analyse the reponse of wild type and mutant chondrocytes (Δ α10) at the transcriptional and phoshoproteic levels.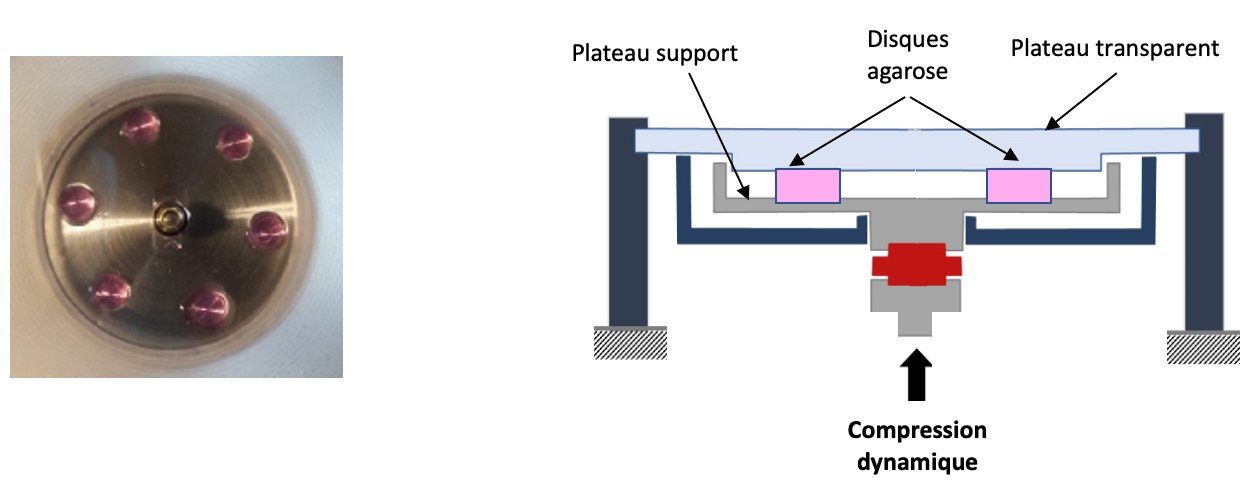 Figure: Presentation of the compression experimental procedure. (left) agarose discs containing chondrocytes are between two plates (view from above). (right) schema of the dynamic compression procedure (bottom-up). The above (transparent) plate is static.

---
Selected publications :
1. Hannoun A, Perrier-Groult E, Cureu L, Pasdeloup M, Berthier Y, Mallein-Gerin F, Trunfio-Sfarghiu A-M. (2021) New "Tribo-bioreactor" for in situ monitoring of the mechanical transmission at the cellular level: application to cartilage tissue engineering. Biotribology 2021, in press
2. Bougault C, Cueru L, Bariller J, Malbouyres M, Paumier A, Aszodi A, Berthier Y, Mallein-Gerin F, Trunfio-Sfarghiu AM. (2013) Alteration of cartilage mechanical properties in absence of β1 integrins revealed by rheometry and FRAP analyses. J Biomech. 2013 Jun 21;46(10):1633-40. PMID: 23692868. doi: 10.1016/j.jbiomech.2013.04.013. Epub 2013 May 19.
3. Bougault C, Aubert-Foucher E, Paumier A, Perrier-Groult E, Huot L, Hot D, Duterque-Coquillaud M, Mallein-Gerin F. (2012) Dynamic compression of chondrocyte-agarose constructs reveals new candidate mechanosensitive genes. PLoS One  2012;7(5):e36964. PMID: 22615857. doi: 10.1371/journal.pone.0036964.
4. Bougault C, Paumier A, Aubert-Foucher E, Mallein-Gerin F. (2009) Investigating conversion of mechanical force into biochemical signaling in three-dimensional chondrocyte cultures. Nat. Protoc. 2009;4(6):928-38. PMID: 19478808. doi: 10.1038/nprot.2009.63.
---
Collaborations :
A. Aszodi (Cartilage Research Group, clinic for General, Trauma and Reconstructive Surgery, Luwig Maximilians University, Germany)
A-M Sfarghiu (LaMcoS UMR5259, Insa)