Porteur de projet  : J. Lamartine (PU)
Personnes impliquées dans le projet : 
Fabien Chevalier (MCU),  Joshua Dulong (PhD cand.), Julie Rorteau (PhD cand.) Clara Kouakou (Stagiaire ESTBB)

---
Au cours du vieillissement, la peau subit une détérioration  fonctionnelle progressive par perturbation des équilibres métaboliques et moléculaires qui assurent sa cohésion. Il est nécessaire de mieux connaître ces réseaux génétiques et épigénétiques pour identifier de nouveaux biomarqueurs du tissu âgé et pour proposer de possibles stratégies anti-âge. Nous nous intéressons en particulier aux ARNs non codants, comme les microARNs, qui représentent des régulateurs importants des réseaux génétiques dans la peau.  Nous identifions par des approches OMICS des microARNs  potentiellement perturbés dans le tissu âgé, étudions leur fonction et développons des approches génétiques pour contrarier ou retarder leur effet délétère dans le tissu âgé.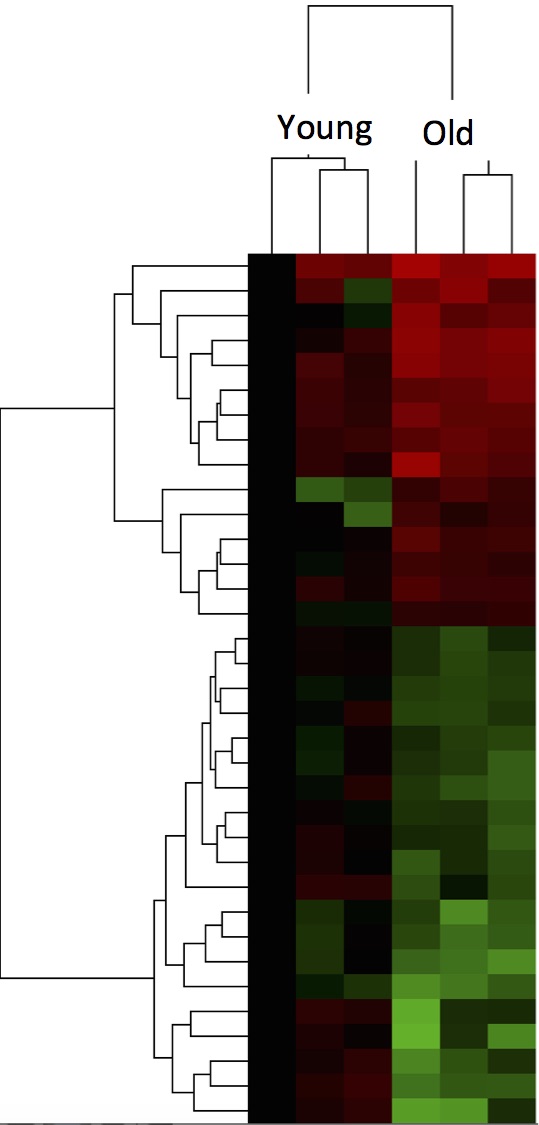 Représentation graphique de l'expression des microARNs entre la peau jeune et âgée.
La peau est une cible directe des stress environnementaux. La sensibilité cutanée au stress varie énormément d'un individu à l'autre. L'identification des individus hypersensibles aux radiations ionisantes est un enjeu majeur pour prévenir les effets secondaires de la radiothérapie.  Nous établissons une signature moléculaire et épigénétique de la radiosensibilité cutanée aux radiations à partir de fibroblastes de patients ayant montrés des séquelles tardives de radiothérapie. Nous voulons mieux comprendre les bases mécanistiques de cette radiosensibilité et proposer des stratégies de dépistage des individus à risque. Cette approche peut être proposée pour d'autres stress environnementaux : stress climatiques, pollution de l'air, polluants chimiques, radiofréquences etc …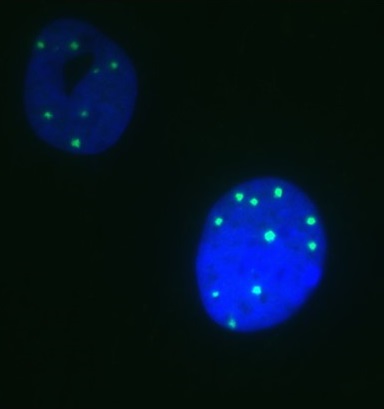 Marquage des cassures de l'ADN (en vert) dans des fibroblastes de peau irradiés
---
Sélection de publications récentes :
Muther C, Jobeili L, Garion M, Heraud S, Thepot A, Damour O, Lamartine J. An expression screen for aged-dependent microRNAs identifies miR-30a as a key regulator of aging features in human epidermis. Aging 2017 Nov 19 ;9(11) :2376-2396
Barbollat-Boutrand L, Thepot A, Muther C, Boher A, Robic J, Guéré C, Vié K, Damour O, Lamartine J. Repeated short climatic change affects the epidermal differentiation program and leads to matrix remodeling in a human organotypic skin model. Clin Cosm Invest Dermatol 2017 Feb 13, 10-43-50.
Barbollat-Boutrand L, Joly-Tonetti N, Dos Santos M, Metral E, Boher A, Masse I, Berthier-Vergnes O, Bertolino P, Damour O, Lamartine J. microRNA-23b-3p regulates human keratinocyte differentiation through repression of TGIF1 and activation of the TGF-ß -SMAD2 signaling pathway. Exp Dermatol. 2017 jan ;26(1) :51-57
Joly-Tonetti N, Vinuelas J, Gandrillon O, Lamartine J. Differential miRNA response in proliferating or differentiated keratinocytes in response to gamma irradiation. BMC Genomics. 2013; 16;14(1):184.

---
Collaborations  :
Taku Nedachi (Toyo University, Tokyo, Japon)
Michèle Martin (CEA, Evry, France)
Nicolas Foray (INSERM, Lyon, France)